Falafel Sandwich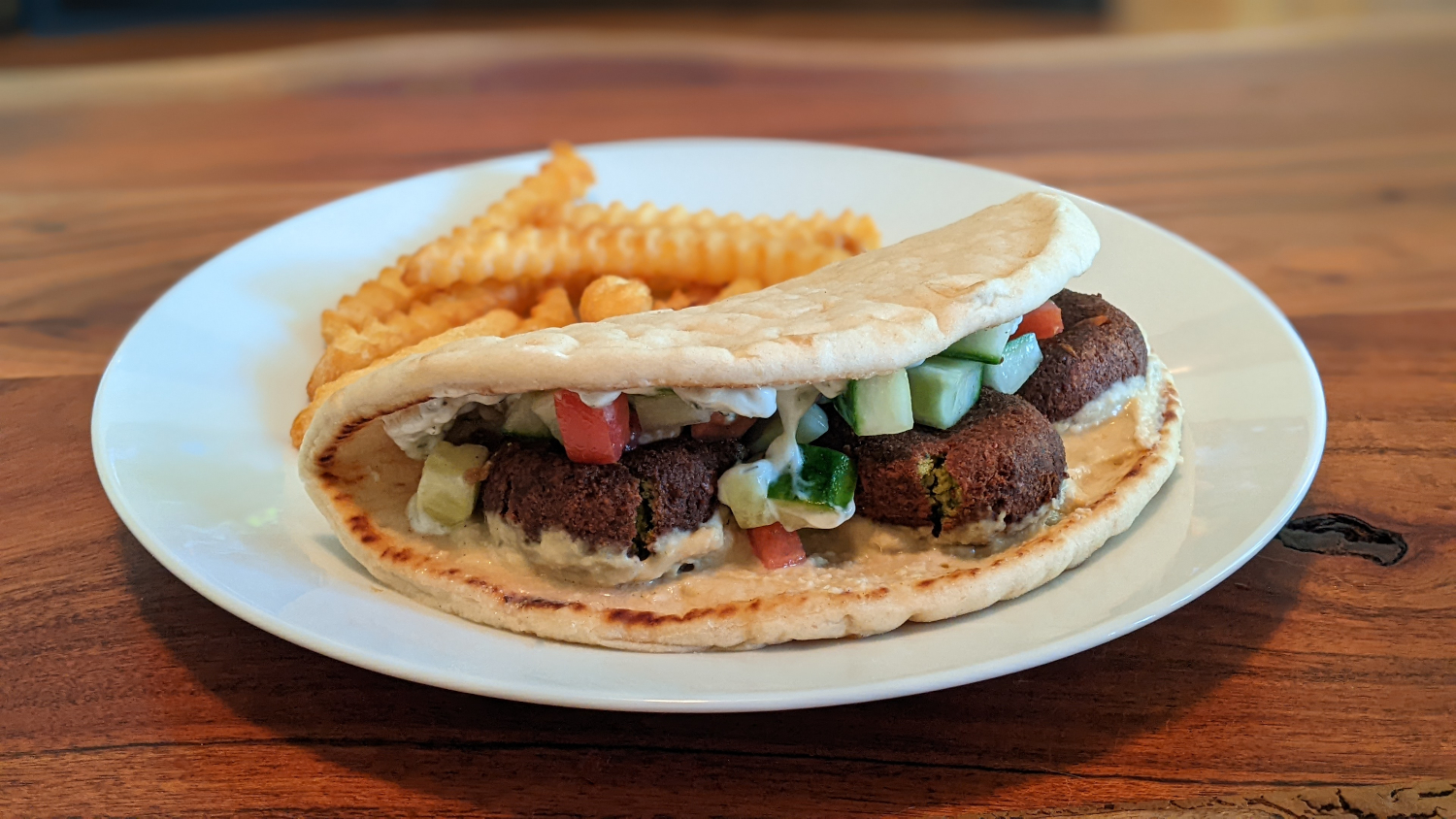 Author:
Suzy Karadsheh
| Cooked:
July 2, 2022
Yields: 5 Servings | Prep Time: 20 Minutes | Cook Time: 30 Minutes
Ingredients
---
Falafel

2 c. dried chickpeas
1 c. fresh parsley
3/4 c. fresh cilantro
1 small yellow onion, quartered
4 medium garlic cloves, peeled
1 Tbs ground black pepper
1 Tbs ground cumin
1 Tbs ground coriander
Salt to taste
1 tsp baking powder
Flour (optional)
Vegetable oil for frying
--------------------------

Sandwich

1 English cucumber, diced
2 Roma tomatoes, diced
2 Tbs parsley
2 Tbs olive oil
1 lemon
Feta cheese
Salt
Ground black pepper
Pita bread
Hummus
Tzatziki
Falafel
Sriracha (Optional)
Directions
---
Falafel

The day before cooking, soak the dried chickpeas in enough water to cover them by at least 2 inches. When ready, drain the chickpeas and pat dry.
Remove the stems from the parsley and cilantro and add them to a food processor with the chickpeas, quartered onion, peeled garlic, and spices (minus the salt). Run in 30 second increments until well combined. Then stir in salt to taste.
Refrigerate the mixture for 15-60 minutes. The longer the better as it will grant a firmer mixture.
Stir baking powder into the mixture. If mixture is too loose, add flour in 1 Tbs increments.
Fill a Dutch oven or medium pot with 2-3 inches of vegetable oil and heat to 375°F. Roll 1-1.5 inch balls of the falafel mixture and carefully lower them into the oil being careful not to crowd the oil and keeping an eye on the oil temperature. Cook for 4-6 minutes until medium brown on the outside. Test the first falafel to get a better idea of cooking time.
Remove falafel from oil and place on plate lined with paper towels.
--------------------------
Sandwich

To make Israeli salad, dice cucumber and tomatoes and chop parsley. Add olive oil, juice of 1 lemon, preferred amount of feta, and salt and pepper to taste.
On a piece of pita bread, spread preferred style of hummus on one half and tzatziki on the other. Add 3 falafel to the hummus side and crush slightly. Add Israeli salad and optional sriracha to the side with the tzatziki.
Fold pita and voilà!
Additional Notes
---
You must use dried chickpeas and not canned!
I read that you should soak the chickpeas overnight at room temp, but I had them in the fridge (to hide them from my curious cat) and they seemed to turn out just fine.
We didn't dry off our chickpeas before putting them in the food processor which made the mixture too wet. We added tablespoons of flour at a time until the mixture would hold together enough prior to deep frying.
Keep an eye on the oil temp as you add falafel to the pot as this will lower the oil temperature and increase cooking time.
Pickled red onions would be great on this!