Katsu Curry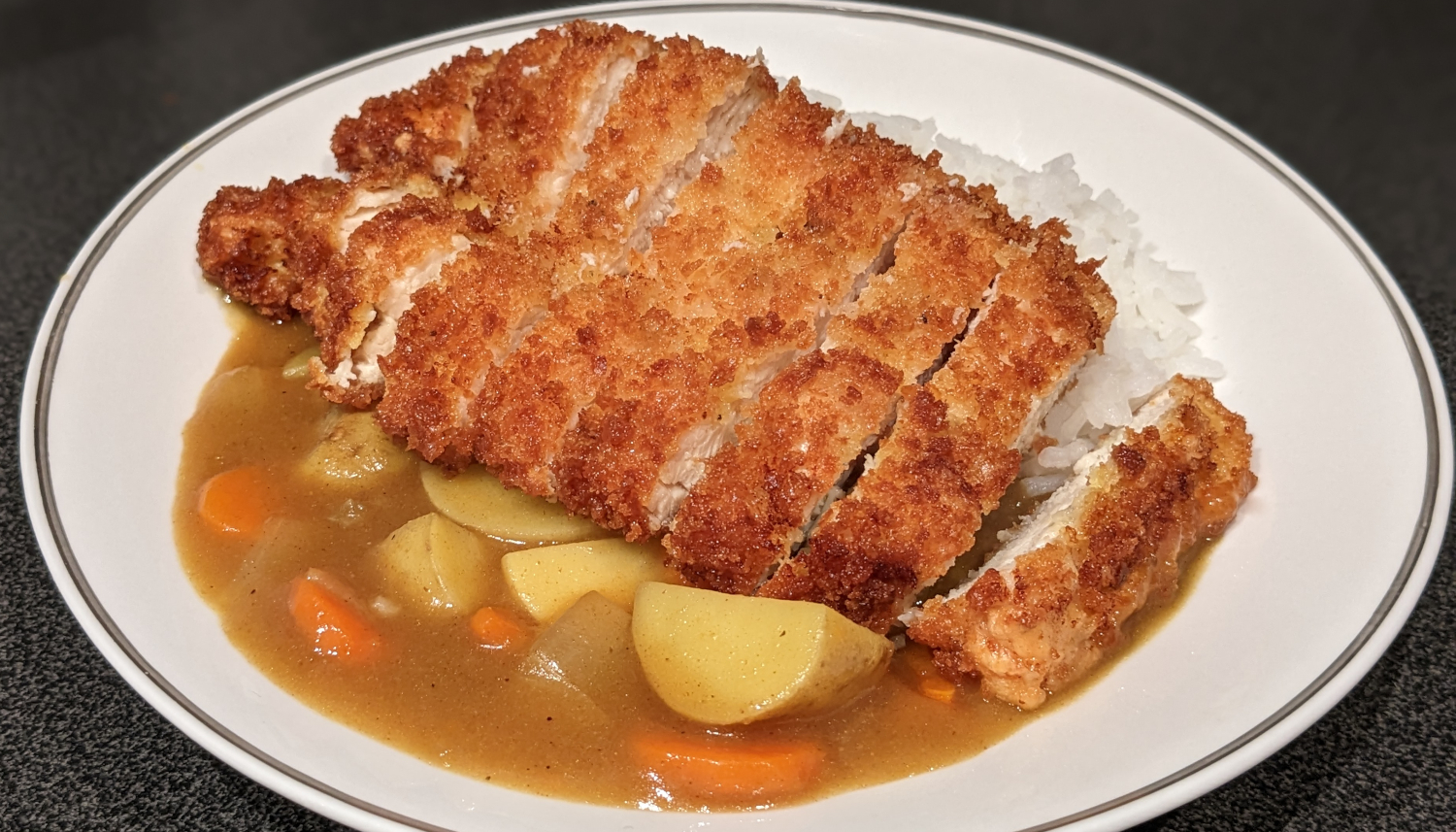 Author:
RecipeTin Japan
| Cooked:
February 4, 2023
Yields: 4 Servings | Prep Time: 15 Minutes | Cook Time: 40 Minutes
Ingredients
---
Chicken Katsu

2 chicken breasts
Salt and pepper
All-purpose flour
1 egg, beaten
Panko breadcrumbs
Vegetable oil to deep fry
--------------------------

Curry

1 Tbs vegetable oil
1 medium white onion, sliced into 1/2" pieces
1 lb Yukon Gold potatoes (or other waxy potato), cut into 1/2" cubes
2 large carrots, cut into 1/4" thick pieces
3.5 c. water
1 curry block (we used S&B Golden Curry medium-hot, 92g)
Rice, cooked (Jasmine)
Directions
---
Chicken Katsu

Slice each breast in half horizontally (hamburger-style). Pound out the breast slices into an even thickness.
Season all over with salt and pepper.
Prepare three shallow bowls: one each for the flour, egg, and breadcrumbs. Place an additional bowl or tray next to the breadcrumbs.
Working one fillet at a time, coat completely with flour, shake off excess, dredge in egg and allow excess to drip off, and finally coat completely in breadcrumbs making sure there are no bare spots.
In a deep pan, heat about 1.5" of oil to 350°. Gently place 1-2 fillets in the pan and fry for about 3 minutes per side or until it is browned.
Transfer to a plate or try lined with paper towels to drain excess oil.
--------------------------
Curry

In a medium-sized pot, heat the oil over medium-high heat.
Add onion and cook until the onion becomes soft, translucent, and the edges start to burn.
Add potatoes and carrots and stir occasionally, cooking until the edges start to get cooked.
Add water and bring to a boil. Then reduce heat to medium-low and simmer until the vegetables are nearly cooked through (about 7 minutes).
Break the curry block into pieces and add to the pot, stirring to incorporate.
Reduce heat to low, cover with a lid, and cook until the curry block is completely dissolved (about 10 minutes) while stirring occasionally (and making sure that nothing is stuck to the bottom of the pot).
Check the consistency of the sauce. If it is too thick, add some more water. If too thin, continue to cook without the lid.
Serve with rice and even fukujinzuke if you know where to get some.
Additional Notes
---
Start to fry the chicken shortly after adding the water to the vegetables.