Shrimp Mozambique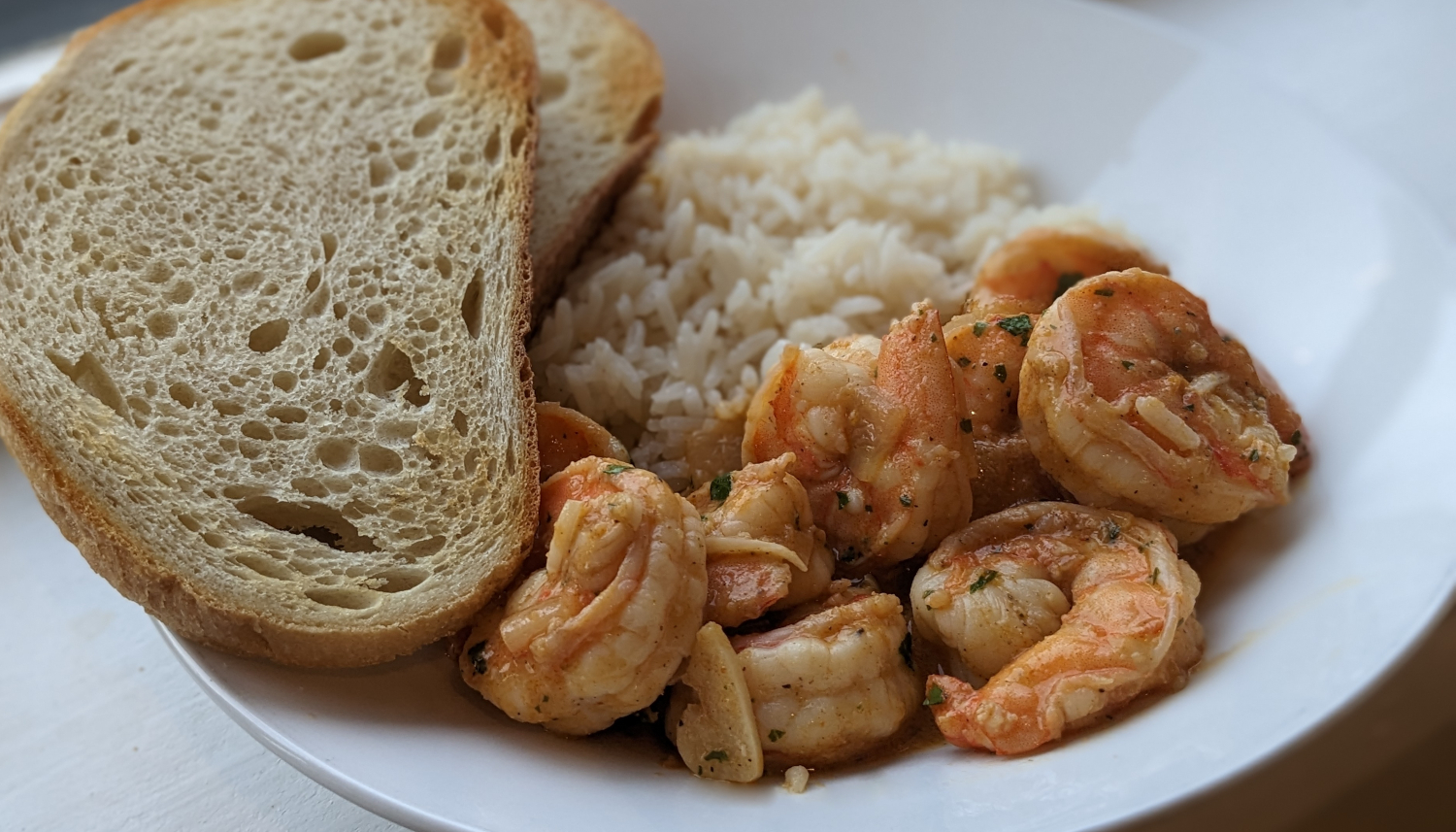 Author:
America's Test Kitchen
| Cooked:
March 11, 2023
Yields: 4 Servings | Prep Time: 15 Minutes | Cook Time: 15 Minutes
Ingredients
---
Piri Piri Sauce

2 Tbs Frank's RedHot hot sauce
2 Tbs olive oil
1 Tbs chopped fresh parsley
2 tsp paprika
2 chopped garlic cloves
1/2 tsp black pepper
~1/4 slice torn up white bread (excluding any hard crust)
2 Tbs water
--------------------------

Shrimp Mozambique

2 lbs extra-large shrimp (preferably untreated shrimp without any added salt or sodium tripolyphosphate)
1/2 tsp salt (only use if the shrimp were untreated)
1/4 tsp black pepper
1 Tbs olive oil
1/2 medium white onion, diced
1/2 tsp salt
3 garlic cloves, thinly sliced
1 c. dry white wine (Pinot Grigio or Sauvignon Blanc)
2 Tbs unsalted butter
Directions
---
Piri Piri Sauce

Place all items into a blender and blend for ~2 minutes until everything is smooth. Add more water if necessary.
--------------------------
Shrimp Mozambique

Peel shrimp and remove the tails. If shrimp were frozen and are a bit wet, pat them dry with paper towels.
Season shrimp in a bowl with salt and pepper.
Heat the oil in a nonstick skillet over medium heat. Add the onion and 1/2 tsp salt and cook for ~5 minutes or until soft.
Add sliced garlic and cook for about 1 minute.
Add white wine, bring to a boil, and cook until the wine has reduced by half (about 4 minutes).
Add shrimp and cook until just opaque (about 4 minutes).
Add in the Piri Piri sauce and butter, and continue to heat until the butter melts.
Remove from heat and top with more chopped parsley.
Additional Notes
---
Served with coconut rice and toasted sourdough bread.
Cindy suggested trying them with grits. I think even serving with a risotto could be really good.