Twice Baked Potatoes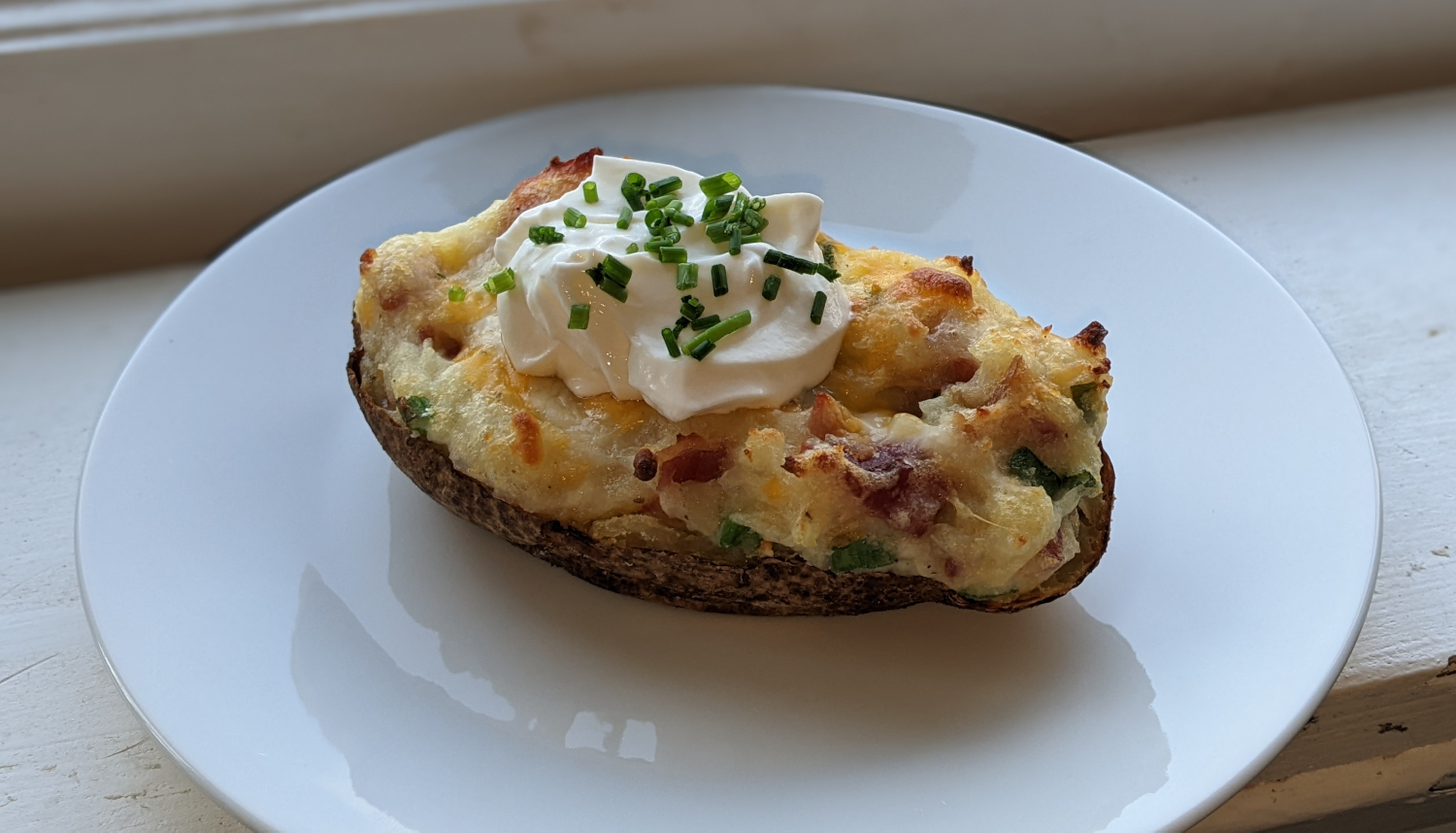 Author:
Recipe Tin Eats
| Cooked:
March 20, 2022
Yields: 8 Servings | Prep Time: 15 Minutes | Cook Time: 75 Minutes
Ingredients
---
4 large russet potatoes
1 Tbsp olive oil
1/2 tsp salt
6 pieces thick-cut bacon
8 Tbsp unsalted butter
1/3 c. milk or cream
1 1/4 c. shredded cheese (we used Mexican blend)
3 green onions
1/4 tsp salt
1/4 tsp pepper
1 1/2 Tbsp chives
Sour cream
Directions
---
Preheat oven to 425°F. Wash potatoes and dry well. Stab each potato 8 times with a fork. Rub olive oil onto each potato and sprinkle with salt.
Bake potatoes for 70 minutes or until you can pierce with a knife with no resistance.
While potatoes bake, cook bacon until golden. Dry bacon with paper towels and chop coarsely.
When potatoes are done, remove from oven and lower temperature to 375°F.
Cut potatoes in half lengthwise and scoop out potato flesh into a bowl leaving about 1/4" layer of potato stuck to the skin.
Add butter, milk, salt, and pepper and mash until smooth. Add in 1 c. of cheese, the green onion, and most of the bacon. Stir to combine.
Fill potato skins with the potato mixture. Top with the remaining cheese, and bake for 20 minutes until the cheese is melted and bubbly.
Garnish the potatoes with sour cream, chives, and the remaining bacon.
Additional Notes
---
Try to pick potatoes which are more round rather than long.